So, last time I played Trollbabe was almost exactly three years ago, and as documented by this post on La Locanda, it didn't go too well.
Some years of talking on Adept Play and constantly playing The Pool later, and re-analyzing Trollbabe through that experience, and I felt very confident to pick up the game again at FroggyCon in Milan — a play-only convention that I help organize. I was right — after going through Situation & Story, Trollbabe GMing was effortless fun. I played for a 3h session with three other trollbabe-players, two of which female, one of which I can only describe as a real-life trollbabe in demeanor and look — she was a delightfully inspired player and might be posting her side of this session sometime soon.
Being familiar with players choosing the same adventure location as a crutch, so they can default to team-play and everyone being in the same scene, I suggested they all select different locations, so we can experience that you can indeed play together without your characters being in the same scene all the time. It was awesome to see that I didn't need to prod — everyone was commenting on everything that was happening, at all times. One player even triggered a conflict, in a scene her trollbabe wasn't in, when me and the other player were getting caught up in dialogue and taking too long to take up dice. Great players make great games.
Then, something occurred that I think is very legitimate Trollbabe play — all three trollbabes (initially) wanted little to do with the problems in each settlement and actively fought with NPCs to be able to go their own way and get back to their travels. This was as good of a commentary on the stakes in each adventure as willing involvement would have been. And through conflict with NPCs, some of them got enough perspective to start taking a side — one didn't, and that's fine. Her ending was to finally leave this place and leave these people to their own devices. This type of fruitful play out of rejecting adventures is very much in contrast with common RPG non-play where player-characters must go along with NPC-given quests, lest the adventure not even start.
An unfortunate reality of convention play is that 3h weren't enough to complete three ventures for three trollbabes. But we didn't force a conclusion — wherever we got, we got, and I think it's something important to commit to when playing in these limited time-slots. I'd rather have 3h of real play than starting to railroad in the third hour to get to a "satisfying conclusion" — not that Trollbabe as a system would react well to this kind of manipulation.
But finally — most of all this post is an excuse to share the stupenduous character sheet artwork drawn by our real-life trollbabe, who's an amazingly talented artist as well — because of course she is.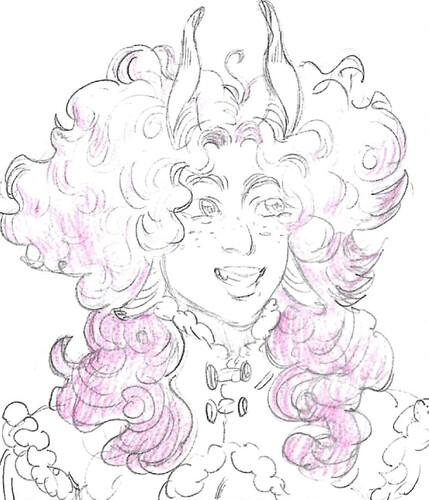 ---
This is a repost of some actual play reflections that I already posted on Adept Play and La Locanda dei GDR in April 2023. I hope it can act as an example of what an actual play post looks like. Feel free to comment and ask questions.