One of my favourite games, especially for playing with non-gamers, is Monsterhearts. (Or, as I sometimes affectionately call it, M<3s.)
However, the setup portion of the game can be a bit tricky if people don't really know the genre well. It leaves you floundering a little, if you're not already well marinated in the source material.
I ended up making a variety of tools for myself and for running games.
This one is a particularly successful one, and I've used it several times to start a campaign. I've found that just leaving it out on the table has often convinced people to play. (They walk over, take a look, read a bit, and say: "What is this? Can we play?")
It's a fun procedure, adapted from Fiasco, where you roll a pile of dice and then set up a basic relationship map. The last two sections work well as a random generator for NPCs in the game, as well (I find it useful).
Here's a link to a PDF! If you use it at your table, let us know how it goes. Hopefully it ends in tears for you, too.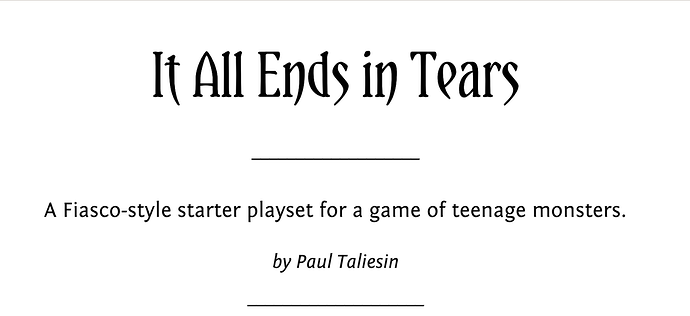 It All Ends in Tears.pdf (140.1 KB)